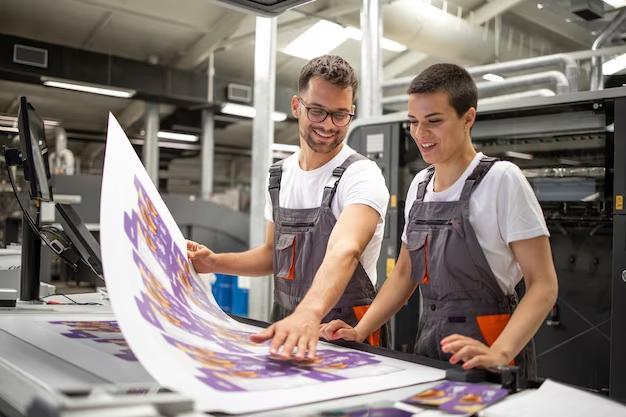 5 Benefits Of Custom Printing In Canada For Businesses
In today's fiercely competitive commercial arena, building a robust brand identity and efficient marketing tactics are crucial for triumph. Custom printing is pivotal in attaining these objectives for businesses in Canada. Ranging from business cards and promotional items to packaging and signs, custom printing provides a multitude of advantages that aid businesses in distinguishing themselves and prospering in the market. This post will delve into five principal merits of custom printing in Canada for businesses.
Augmented Brand Visibility And Acknowledgment
A fundamental advantage of custom printing in Canada for businesses is the capacity to augment brand visibility and acknowledgment. Custom printing enables you to craft distinct, attention-grabbing designs that aptly symbolise your brand. Whether it's bespoke business cards, pamphlets, or banners, showcasing your logo, colour schemes, and messaging uniformly across all printed materials assists in constructing a strong and unforgettable brand identity.
Maintaining consistency in branding renders your business more professional and guarantees that customers can effortlessly recognise and remember your brand. This acknowledgment can bolster trust and allegiance among your target demographic, ultimately propelling sales and business expansion.
Customised Marketing Collaterals
Custom printing in Canada permits businesses to generate marketing collaterals that are customised to their particular requirements and goals. Whether advertising a special deal, introducing a new product, or participating in a trade exhibition, you can fashion printed materials that align with your marketing objectives.
For instance, if you operate a restaurant, bespoke menu printing enables you to present your dishes and emphasise daily specials attractively. For retailers, customised packaging can amplify the unboxing experience for customers, leaving a durable impression. Custom printing authorises businesses to be imaginative and tactical in their marketing endeavours.
Cost-Efficient Marketing
Even though digital marketing has become prevalent, custom printing continues to be an economical marketing approach, especially for small and local enterprises in Canada. Printing services extend bulk discounts, rendering the production of large quantities of materials more cost-effective. Additionally, the physical nature of printed materials implies they can possess a longer lifespan than digital advertisements that vanish from a screen.
Furthermore, distributing printed materials, such as leaflets or brochures, to targeted local audiences can be exceedingly effective. It enables you to directly engage potential customers, resulting in a superior return on investment (ROI) compared to digital advertising techniques.
Reliability And Professionalism
Custom printing also enhances the reliability and professionalism of a business in Canada. When customers receive premium-quality, well-designed printed materials, it conveys a sense of trustworthiness and dedication to excellence. This is particularly crucial for service-oriented businesses, where the initial impression can markedly influence the decision-making process of potential clients.
For example, investing in custom-printed business cards, letterheads, and envelopes depicts your business as serious and dependable. It indicates that you pay attention to detail, which can be a determining factor for clients choosing between rival businesses.
Environmental Sustainability
Environmental issues have become increasingly significant for businesses and consumers in recent years. Custom printing in Canada enables you to align your brand with eco-friendly practices. Numerous printing companies in Canada now provide sustainable printing options, such as utilising recycled paper and environmentally friendly inks.
By opting for these environmentally considerate printing methods, your business can exhibit a commitment to sustainability and attract customers who prioritise eco-friendly practices. This benefits the environment and assists in enhancing your brand's reputation as a socially responsible entity.
Conclusion
Custom printing in Canada provides a plethora of benefits for businesses, from enhanced brand visibility and customised marketing collaterals to cost-efficient marketing strategies and amplified professionalism. Additionally, by adopting sustainable printing practices, businesses can contribute to a more eco-friendly planet while attracting environmentally aware consumers.
In a competitive market, custom printing can be a potent instrument to differentiate your business, resonate with your target audience, and ultimately propel growth and success. Therefore, whether you are a small local enterprise or a large corporation, contemplate the merits of custom printing to elevate your brand and marketing initiatives in Canada. Visit https://printingexperts.ca/ to know more about custom printing services in Canada.
Featured Image Source: https://img.freepik.com/premium-photo/graphic-engineers-workers-checking-imprint-quality-modern-print-shop_308072-1388.jpg?size=626&ext=jpg&uid=R97771068&ga=GA1.2.992445633.1694110707&semt=ais