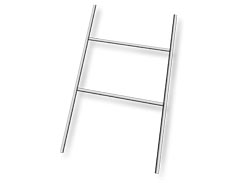 H Stands (For Signs) • Turnaround: 4-5 Business Days
Original price
$25.00
-
Original price
$72.00
H Stands (for signs)

Office Material

H stands are inserted into the vertical flutes of coroplast signs at one end and inserted into the yard at the other end. They ensure that your coroplast signs remain standing on the ground.
Quantities
Sizes
Finishing
Material
Special Instructions

These h-stands are specifically designed for 4mm and 6mm coroplast signs. It is not recommended for use any other type of coroplast sign.

When ordering signs from SinaLite, ensure you select the H-Stand Ready option to ensure h-stand compatibility.